Our Applicant Tracking Software
Lighthouse Compliance Solutions introduces Rapid Applicant, an innovative applicant tracking software system designed to streamline and optimize the hiring process for all types of organizations. With a focus on efficiency, simplicity, and user-friendly features, Lighthouse offers a comprehensive platform that empowers businesses to effectively manage their recruitment efforts. We understand the challenges faced by modern HR teams and strive to provide a robust solution that enhances productivity and helps attract and retain talent.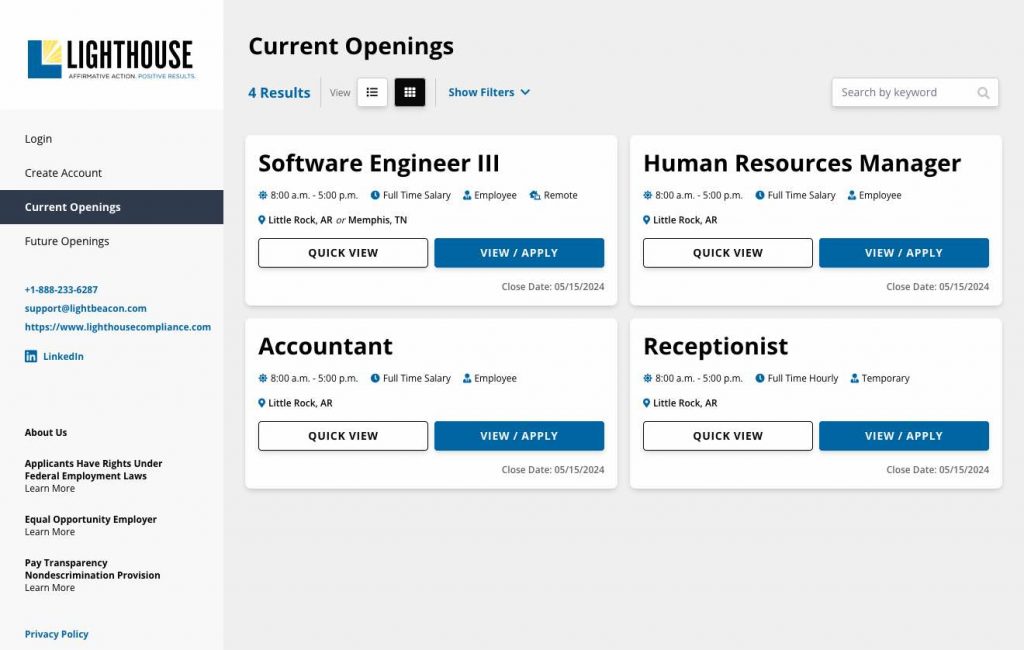 About Rapid Applicant
Rapid Applicant is a powerful hiring management solution uniquely suited to the needs, demands and budgets of a small or mid-size company but can also handle the demand of a large company. Rapid Applicant arms your company with a web-based hiring solution that efficiently manages candidate data, ensures compliance with employment regulations and helps you hire the best talent.
Rapid Applicant empowers organizations to optimize their recruitment processes, attract a wider pool of candidates, streamline hiring management, proactively foster diversity, and make informed talent acquisition decisions. By leveraging the functionalities of Rapid Applicant, your business can efficiently and effectively build a diverse and high-performing workforce while saving time and resources in the recruitment process.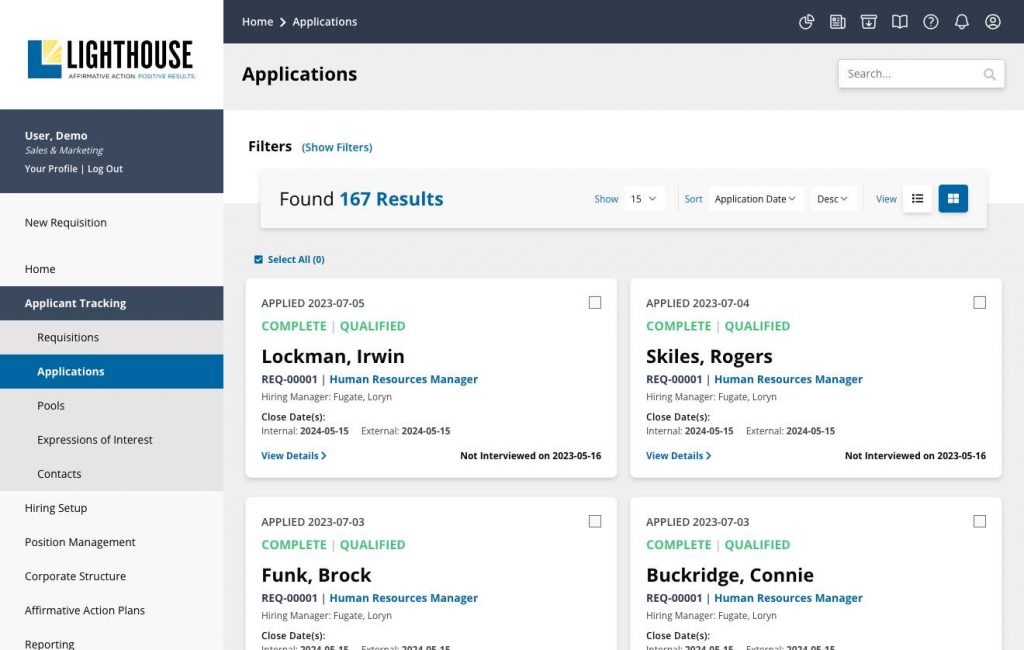 A Best-Practice Approach to Applicant Tracking Software
Rapid Applicant is more than a Human Resource technology solution. The system is built around a best-practices hiring model designed by experts in human resources, affirmative action and employment law. That means each candidate is considered in a fair and unbiased way which greatly diminishes your risk of litigation or regulatory action.
With Rapid Applicant, your organization can save time, reduce administrative burdens, and make more informed hiring decisions that align with your talent acquisition goals.
What Makes Rapid Applicant Different From Other Applicant Tracking Systems?
Unlimited Users
Unlimited Job Postings
Compliant with EEOC and OFCCP guidelines and regulations
Multi-factor authentication
Desktop, Tablet, and Mobile-Friendly
Online knowledge-base and video tutorials
Customizable email templates for communicating with candidates
Create customizable job applications with qualifying questions
Eliminates the need to review unqualified candidates
Rapid Screening features to narrow down the most qualified candidates
Build application templates to quickly create new job postings
Share job postings via email, social media, or by QR code
Advanced analytics, reporting, and logging
Fully customizable site branding to match your organization's existing website
Schedule Interviews
Detailed interview assessments with applicant rankings
Never pay more for updates/upgrades or changes in regulatory forms
Our specialists will create and customize job postings for you (contact us for details)!
Contact us to learn more about Rapid Applicant or request a demo!